Undoubtedly the most exciting city of USA, come New Year's Eve and the excitement goes a notch higher. As the clock strikes 12, the world wants to witness the dazzling lights and bustling energy of Times Square. One of the hottest New Year's Eve parties, and more than that a long-driven tradition. With an estimated one million people, present live and over a billion watching throughout the world, the famous New Year's Eve Ball descends atop One Times Square. But there is a plethora of other activities and events that New York holds, to make for a memorable New Year's Eve. Whether you want a free, low-key night watching fireworks in Central Park, or you want to shell out big bucks to don a black-tie attire at the Rainbow Room, the Big Apple has got you covered.
And so, if you have been contemplating New Year's Eve in New York City, take a cue from these amazing activities, events and great hotels to stay, for one memorable New Years'!
Some great activities and events for New Year's Eve in New York: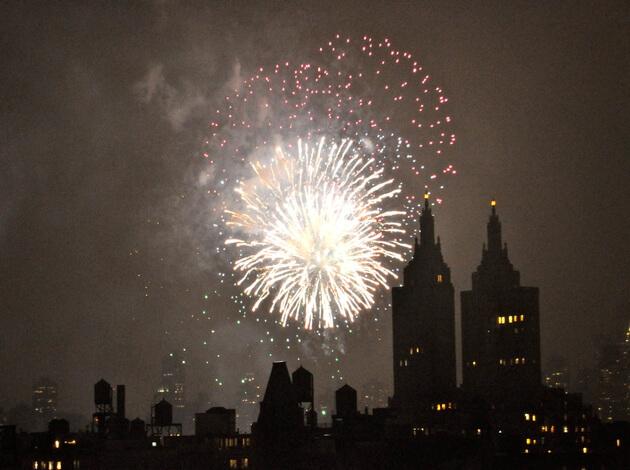 Image source: flickr.com/Sarah_Ackerman
Of course, there are a million 
activities to do in New york
 and many more events to bring in the New Years', but the following are the creme of all.
1. Behold the mesmerizing fireworks at Central Park
Iconic lights and neon drama, leave people spellbound as they behold the firework panoramas with their drink/ hot cocoa in hand. This is one of the best free things to do in NYC on a New Years' Eve. Launched at midnight from Central Park's Naumburg Bandshell, the fireworks can be seen from virtually any spot in Central Park.
2. Midnight Run in Central Park, for a fit start of the year
Runners take off on a four-mile run from the 72nd Street Transverse, as the clock strikes midnight. What better way to get your eternal 'New Year's Resolution' going, than starting at midnight! Prior to the run, there is a dance party at 10 p.m. and a costume parade and a contest at 11 p.m. at Central Park's Naumburg Bandshell.
3. Cruise the New York Harbor
The Manhattan skyline is at its best view, with fireworks lightning the sky like magic.  Fireworks exploding from the Statue of Liberty are a sight to witness from a cruise in the New York Harbor. There are plenty of yacht and riverboat cruise options available, from luxury to budget, offering various activities on board like an open bar, hors d'oeuvres, a dance party with DJ, and a toast at midnight.