As soon as we think of stunning castles, we think of Europe! But, did you know that even Japan boasts of some of the most beautiful and awe inspiring castles that are kept like hidden treasures. A look at them is a study in art, architecture and culture of Japan that will leave you struck with wonder and amazement. These castles were actually built as fortresses during 16th century to guard significant sites against frequent attacks by warlords. Made of wood and stone, these structures still look magnificent and offer a journey into the ravishing past of cities and towns in which they are incorporated. Take a look at some of the best castles in Japan to visit for an enchanting experience.
1. Himeji Castle – the most famous castle in Japan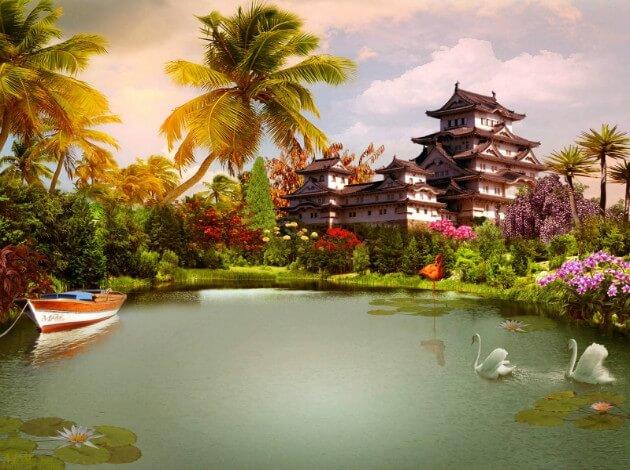 image source: forwallpaper
Located on the hilltop of Himeji in Hyōgo Prefecture, the Himeji castle is perhaps the best known and visited castle of Japan. Flanked by lush emerald green nature, this castle looks resplendent and elegant in white. The castle is a world heritage site that looks spectacular and enchanting especially when the cherry blossoms bloom. Originally built in 1346, this castle was built for a strategic defence along the western approach to the former capital city of Kyoto. There are atleast eighty buildings spread across multiple baileys connected through a series of gates and winding paths. Destroyed during world war and earthquakes, this castle retains the historical aura with its restored structure today.
Best time to Visit: March to October
Timings: Summers: 9:00am to 6:00pm, Winters: 9:00am to 5:00pm
2. Matsumoto Castle – a reminder of the feudal past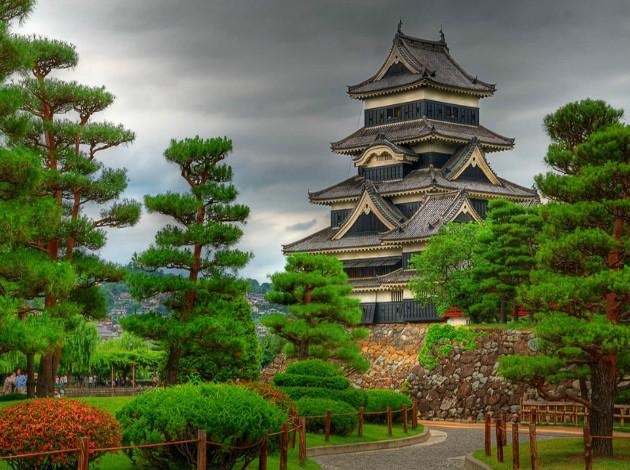 image source: forwallpaper
Matsumoto castle is one of the best castles to visit in Japan owing to its historicity and architecture that spellbinds all. Quite conspicuously, this castle is built on plains rather than hill, which is characteristic of most of the other castles in Japan. It is also distinctive for having both a secondary donjon and a turret adjoined to its main keep. Steep wooden stairs, openings to drop stones onto invaders, openings for archers, as well as an observation deck at the top, make it an engaging visit for the tourists. Visit it during the spring season when the cherry blossoms bloom and offer a picturesque view against its black wooden structure. This castle also suffered a threat of demolition during the Meiji Restoration, when feudal castles were considered obsolete and irrelevant, but with the help of influential locals, it was saved and preserved well.
Best time to Visit: April to September
Timings: 8:30am to 5:00pm daily
3. Osaka Castle – A Fine Japanese Castle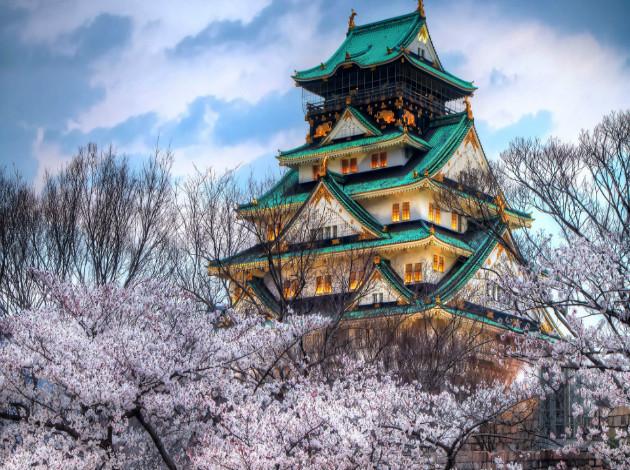 image source: wallpaperfolder
Politically and historically, Osaka Castle is one of the most important structures that played a significant part in the process of unification of Japan, under Hideoyoshi Toyotomi. Perched high, this castle looks ravishing with its gleaming stone structure. Originally built in 1583, this castle was destroyed by Tokugawa troops in 1615 and later on by lightening in 1665. Miraculously, this castle survived the frequent air-raids of WWII and looks royal even till today. A visit to this castle is a must for your travel plans to Japan next time.
Best time to Visit: November to February
Timings: 9:00am to 5:00pm daily
Explore Osaka with Osaka Itinerary 2 Days
4. Matsue Castle – the legendary castle of Japan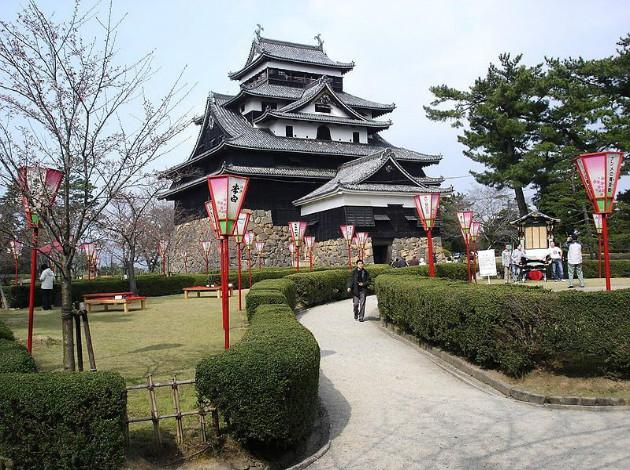 image source: commons.wikimedia
One of the few remaining original castles in Japan, Matsu Castle is also called as the "black castle" due to its darkly-coloured, austere exterior. Built in 1611, this castle was given its shape by Matsudaira clan who were the relatives of the ruling Tokugawa. Although it was built with the purpose of defending against battle, this castle actually never saw one. Today, there is a museum inside that displays period arms and artefacts. In order to extend your stay here and to make it even more alluring, you can take a river boat cruise around the castle moat for a royal experience.
Best time to Visit: April to September
Timings: April to September: 8:30am to 6:30pm, October to March: 8:30am to 5:00pm
5. Odawara Castle – one of the most popular castles near Tokyo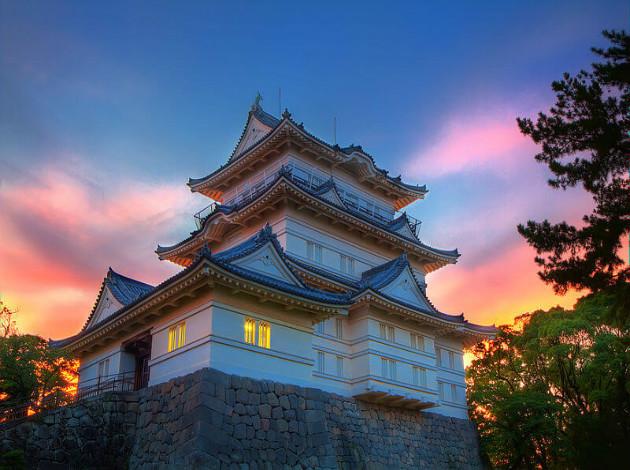 image source: commons.wikimedia
After falling into the hands of the Hojo Clan, the most powerful clans during the Warring States Era in the mid-15th century, the Odawara castle started to be used as a base for controlling the region around Tokyo. However, the castle soon saw the shift of power as Toyotomi Hideyoshi defeated the Hojo Clan and reunited Japan. As you have a look at this castle, you will see three stories on the outside but actually there are four stories on the inside. There are regular interactive exhibitions to make the visitors more well informed about the history of this castle and its role in the history of Japan. A list of things to do in Tokyo can never be a complete one without a visit to Odawara castle.
Best time to Visit: February and March
Timings: 9:00am to 5:00pm
Read More On: Enchanting Castles in Japan for a Mesmerizing Experience